Reflections Art Competition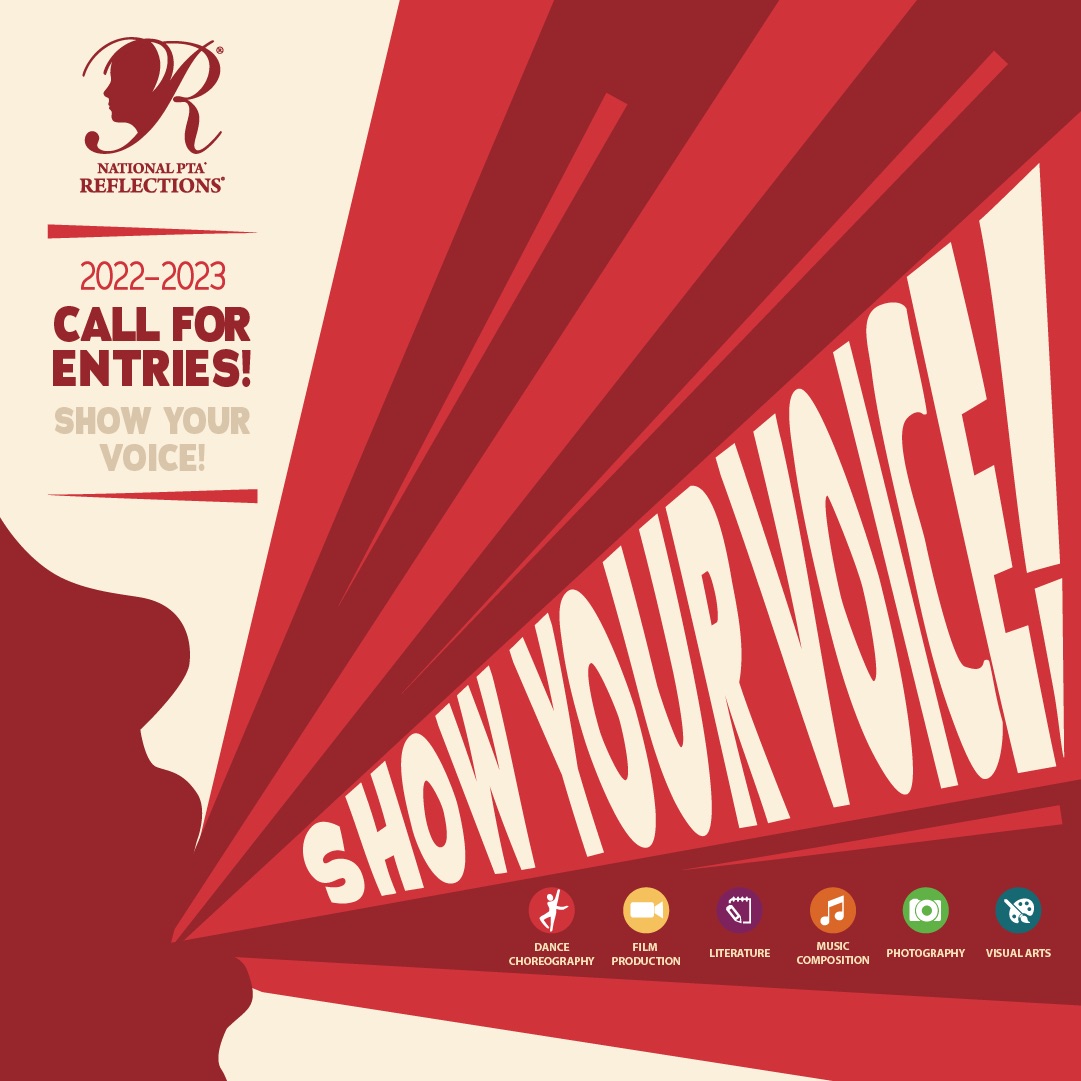 WHAT IS REFLECTIONS? 
The Reflections Art Competition is a National PTA program that starts at the school level. Each year students are invited to create original works of art around a theme. Pieces are evaluated by local artists and art educators. Top scoring works advance to the district level with the opportunity to advance to the state and even national level of the competition. And yes, we have had Carnation Elementary students compete at the national level!
THEME & ART CATEGORIES
The theme for 2022-2023 is "Show Your Voice!" All students are invited to submit work on this theme in the art categories of Visual Arts, Photography, Literature, Dance, and Film. All entries with completed forms are due to the front office by Wednesday, October 19th.  Digital files can be submitted via email to ceptsareflections@gmail.com. Please be sure your student's entry follows the submission rules, paying close attention to size limits and formats accepted. Don't forget to include the artist statement on the entry form - it is given significant weight in the judges' scoring! Students can submit in any or all categories (one entry per category, please.)
Entry Form can be found here: English Form      Spanish Form 
AWARDS CELEBRATIONS
All entries will be displayed, and all students who enter will be celebrated on November 18th.
Top scoring pieces will advance to compete at the Riverview PTSA Council competition.
MORE INFORMATION
Volunteers needed! Interested in helping with the Reflections Art Program?
Contact Reflections Chair Contact Reflections Chairs, Elizabeth or Rachel, at ceptsareflections@gmail.com
More information on this competition can be found at
www.wastatepta.org/events-programs/reflections
CEPTSA Reflections: Elizabeth Metcalf and Rachel Malina, ceptsareflections@gmail.com
WSPTSA Reflections: https://www.wastatepta.org/events-programs/reflections/
National PTA Reflections: https://www.pta.org/home/programs/reflections
MISSION STATEMENT & GOALS
The mission of Carnation Elementary PTSA is to positively impact the lives of all students by partnering with staff, families, and community to foster a culture that values learning, builds community and advocates for all students to excel personally, academically and socially.
President:
Erin Nussbaum
Co-Vice Presidents:
Shannon Draughon & Kristina Batishchev
Secretary:
Bailey Denman
Treasurer:
Lauren Hubler
Click here for the full Board roster
CONTACT PTSA
Mailing Address: 4950 Tolt Ave. - Carnation, WA 98014
Email: ceptsa@outlook.com
Social Media: On Facebook
Carnation Elementary School
425-844-4550